Damage is a weapon Stat that directly affects how many

Life Points the target will lose upon a Successful Hit. Most weapons come with an amplitude of damage, and by default, there's an equal chance of scoring any damage rating in the borders of the listed amplitude. If there's any

Armor rating present on the enemy, he suffers less damage than he would otherwise. Another correlating stat is

Critical. If a Trooper scores a critical hit, he will score a

Killshot, which essentially deals more damage. All damage is dealt directly on impact, except for Poisoning, which affects the target gradually.
Here's a list of weapon classes with highest maximum damage (amplitudes here show upper damage boundaries for comparison) sorted in descending order:
Individual pieces among and between classes would be better compared individually.
Ways to Alter Damage
Improving
Decreasing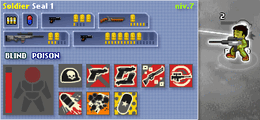 Wearing Heavy Armor (-1 for all direct impacts, Poison needs confirmation).
Upgrading to Fall Guy (negates damage taken by vehicle operators at the moment of destruction, Fall Damage remains intact).
Ad blocker interference detected!
Wikia is a free-to-use site that makes money from advertising. We have a modified experience for viewers using ad blockers

Wikia is not accessible if you've made further modifications. Remove the custom ad blocker rule(s) and the page will load as expected.