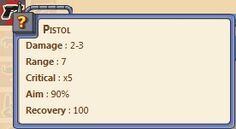 Pistol is one of the 4 standard default weapons (

Handgun) your troopers can start with. Not the best pick for any
Trooper, because of its low

 Damage and

 Critical rate, subpar

Aim, rather long

 Recovery time and limited ammo

Capacity. It is best kept as a sidearm in case the trooper's other weapons are knocked off or
sabotaged.
Trivia
Current image may have been a replacement for , due to not entirely impossible shift of the era the game takes place in. However, it doesn't explain why it's still on the sheet.
Ad blocker interference detected!
Wikia is a free-to-use site that makes money from advertising. We have a modified experience for viewers using ad blockers

Wikia is not accessible if you've made further modifications. Remove the custom ad blocker rule(s) and the page will load as expected.